Neil Pasia, D.O., Named the Patient-Focused Physician of the Month
Neil Pasia, DO, Named October 2011 Patient-Focused Physician of the Month
10/11/2011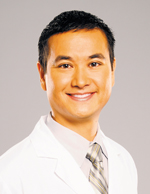 Port Huron MI…Neil Pasia, DO, was named the October 2011 St. Joseph Mercy Patient-Focused Physician of the Month. The St. Joseph Mercy Patient-Focused Physician of the Month award highlights a physician's commitment to working collaboratively to promote patient and community health through clinical excellence and patient-focused care. Physicians honored with this award must also be one whom St. Joseph Mercy Hospital staff and volunteers would recommend to family and friends in the community.
An orthopedic surgeon, Dr. Pasia provides care and treatment to patients with orthopedic illnesses and injuries, especially as they relate to the back. He was nominated for his dedication and commitment to the care of a pediatric patient in an emergent situation.
"A Canadian child, who was attending camp in the area, was injured and transported to St. Joseph Mercy Emergency Department," comments his nominator. "Dr. Pasia was contacted to consult on the patient and provided excellent patient care as he waited with the child and coordinated the patient's care in transport back to Canada. Dr. Pasia spoke several times with the child's parents via telephone and kept them well informed of the care provided. He also provided counseling to the parents while remaining at the patient's bedside to offer support to a frightened child who was in pain. I would refer Dr. Pasia to family and friends because he is a competent, caring and compassionate physician. "
"Dr. Pasia is a terrific asset to our health care community," states Peter Karadjoff, St. Joseph Mercy Port Huron (SJMPH) President and CEO. "His outstanding performance has been noted by those who work most closely with him and has been highlighted through his nomination. I wish to extend my sincere appreciation to Dr. Pasia for elevating the health status of our community."
"I love being a part of this community and working with such terrific people," comments Neil Pasia, DO. "I'm truly grateful to be chosen for this award as we strive toward better health of our patients, family and friends."
The St. Joseph Mercy Patient-Focused Physician of the Month is designed to highlight outstanding collaboration between our physician community and St. Joseph Mercy Hospital patient care and volunteer staff. Nominations are accepted from all staff and volunteers, and are blinded and reviewed by a Nominations Review Committee. The award is presented monthly to a physician on staff at St. Joseph Mercy Hospital.
To find a St. Joseph Mercy Hospital physician near you, visit SJMPH online at: mymercy.us; or call toll-free 1-888-MERCYME