DAMAGE CONTROL: Injuries are going to happen, but how can athletes minimize their damage?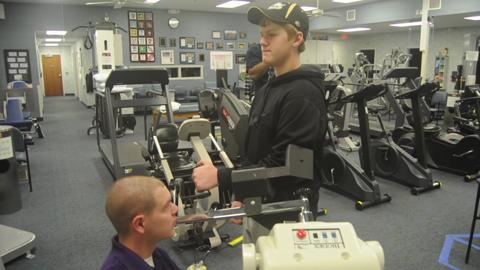 Evan Wagner has no regrets. However, the senior pitcher at Port Huron can't help but ask "What if?"
What if he hadn't tweaked his ankle as a freshman, causing reccurring pain throughout the entirety of his high school career? What if he hadn't torn ligaments in his shoulder diving back to a base as a junior, incidentally dropping his fastball velocity from 85 mph to below 80?
"I wish I would've been more healthy," said Wagner, once a promising player attending camps and hoping to be noticed by scouts. "I wish I could've been able to see what I could've done. I think if I would've been more around my potential velocity it would've helped me out with colleges."
Injuries. Many times in sports, they're not preventable.
There are of course steps one can take (stretching, for example), but often there's no way to avoid the strained hamstrings, sprained ankles, sore shoulders or broken bones.
When one is constantly using their muscles and flexing their joints, constantly competing at a high level and constantly jostling with opponents, the accidents are bound to happen.
Venture down the hallway into the trainer's room at Port Huron or Port Huron Northern and during the peak hours — right after the final bell and just before practices begin —both trainers estimate one will find a mob anxiously awaiting treatment for a variety of pains and strains.
"On a football game day, it could be as many as 30," said Northern trainer Amy Nelson, who then suggested a "normal day" probably ranges closer to 15 to 20 students.
"Usually during football season, I can see anywhere from 15 to 20 (athletes)," Port Huron trainer John Brady said. "Whether that would be taping an ankle, looking at an injury, applying ice, heat massages. Those type of things."
A wide array of injuries require a vast number of treatments.
Oftentimes those bumps and bruises can be healed with rest or any of Brady's aforementioned suggestions. However, Brady said he doesn't always have the solution or the tools to provide the remedy.
He prescribes 7 to 10 days of rest, reassesses the problem, and if not recovered, refers the young athletes to a specialist. Of course, there are times when the period of rest is unnecessary because of the severity of the injury.
"The main thing is," Brady said. "if you get injured, you need to make sure you take care of it immediately. What I find with most athletes, they're more in a chronic stage, meaning, 'Oh I hurt it about a month ago, and thought it would get better.'
"Usually by that time, it's become more chronic, where it causes a decrease in athletic ability, chronic pain and dysfunction."
Advanced Treatment
That's where Orthopedic Associates of Port Huron enters. Proudly serving patients in the Port Huron area for 30 years, OAPH has 10 physicians on staff, including four that specialize in sports medicine.
Shoulders, elbows, hips, knees, hands, ankles. Name the bone or joint, and the staff is eagerly ready to help by accommodating patients with anything from braces to corrective surgery. There are also seven physical therapists.
"Our goal? To help overcome your pain and injury and resume an active lifestyle," the company website states.
Athletes, particularly student athletes from the surrounding area, populate the building. Because of their year-round training, they are most commonly the ones sustaining the injuries OAPH deals with.
Wagner, for example, was a regular at OAPH for a while, attending physical therapy sessions two to three times per week to repair his ankle and shoulder.
"They did a great job," he said. "They worked with me, and they checked up on me, and the people there were really great helping me out."
The way Dr. Raj Makim explains it, the OAPH fully understands the stress put on the bodies of a young athletes, who work out all year and play multiple sports. They also understand injuries aren't always avoidable.
So when the injured athletes do inevitably come in, they're treated with the normal questioning of how it happened and how long the pain's occurred. After a checkup, they're taken for X-rays. From there, a diagnosis is made.
Fortunately, no matter the severity, Makim usually has some positive news.
"Young athletes are fairly easy to rehab," Makim said. "They're usually quite eager to get back to their sport, so they put a lot of time and effort into their rehab, which is good."
In some instances, a high school athlete's recuperation can even be faster than that of a professional athlete, who has the luxury of everyday treatment as well as full-time gym access due to his/her occupation.
"The younger you are the quicker you'll be able to overcome an injury," Makim said. "In terms of rehab and quickness of recovery, the high school athlete has their youth going for them and probably a quicker healing time because their bones and muscles are still potentially growing, and they're more metabolically active."
Advice to Survive
The last advice from Makim was clear. The accidental major injuries — the torn ligaments, broken bones and concussions — will happen. But to steer clear of the nagging injuries that can become major and never fully heal, it's best to take pre-emptive measures.
"Take the proper time to warmup and stretch," Makim said. "Do both before and after exercising. … And certainly, if there is an injury, take the proper time to rest it, rehab it and protect it.
"The best way to avoid any sort of muscular strain is to have appropriate warmup and dynamic exercises. I advise athletes to do a 5-10 minute jog to get the muscular temperature up and then lunges, butt kickers, speed hops. All those."
The trainers chimed in, too.
"Nutrition plays a huge part," Nelson noted. "A lot of athletes don't get enough total calories or balanced, quality calories … They will eventually hurt something because their bodies cannot recover."
"It's just recognition," Brady said. "They have to get it addressed rather than just blow it off."
That's a mistake Wagner once made. After tearing his shoulder, he unwisely returned to the game. He continued to play hurt throughout the rest of the season. The pain eventually branched to his elbow, as he was compensating for the shoulder soreness by changing his throwing motion. He said the rehab has him almost back to normal now, but he fears his chance to get noticed is gone.
"The shoulder was more disappointing to me," he said. "That was at an important time my junior year."
No regrets, but a whole lot of questions.