Dr. Steve Heithoff set for Boston Marathon
Nov. 3, 2011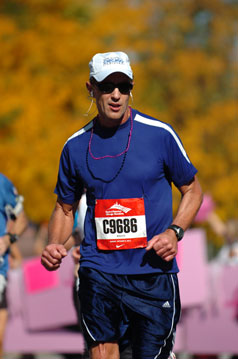 While running his third marathon, Dr. Steve Heithoff qualified for a fourth.
The 56-year-old Port Huron resident met the qualifying time for the Boston Marathon while running in the Chicago Marathon on Oct. 9.
Heithoff's time of 3 hours, 44 minutes and 45 seconds was 15 seconds faster than the qualifying time for his age group.
"It was a real struggle at the end," Heithoff said with a laugh. "I knew what I needed to do. If you know your time and your pace, you sort of know where you are, and I knew I was cutting it pretty close.
"For me to make qualifying time, I had to push it to my limit. Not to say I couldn't do better in the future."
Heithoff, who is a hand specialist for Orthopedic Associates in Port Huron, said he's going to try to get into the 2012 Boston Marathon, which will be held April 16. Registration is closed, however. He said that he will run in the race "whenever I can."
"It's very difficult to get in," Heithoff said. "That would be the ultimate goal, but I'll probably have to requalify if I can't find a way to get in in 2012. It's going to get more difficult because qualifying times for all ages are dropping another 5 minutes. "Like with every other sport, the world is getting better."
Heithoff began running competitively when his friend, Les Smith suggested they compete in a triathlon. That got him hooked.
Gradually I worked into longer races and more challenging events," he said. "I worked my way up to a half marathon as far as running, and then decided to try a full marathon."
Heithoff ran the Detroit Free Press Marathon a year ago and the Miami Marathon in January. This year's Chicago Marathon had organizers worried beforehand because of some unseasonal heat.
"They had some heat problems in the past, and this one got uncharacteristically warm again," he said. "Temperatures that day were in the mid-70s, which you wouldn't think of as a hot day, but for running purposes, you'd like it cooler than that. You'd rather have it in the 50s or 60s.
"There were a lot of people cramping up. It's difficult to remain hydrated in a long race when it gets a little warmer."
Along with Smith, Heithoff said Tim and Pat Ward have helped to motivate him with his running.
Jackie Mall has assisted him with his swimming while training for triathlons, and his Orthopedics Associates colleauge Maureen Muzzarelli has also helped to coach him with running. The running community has also helped.
"It's really helpful to talk to other people," he said. "I really get a lot of advice from other people. Most people in these sports are more than willing to help, because in reality, even though you're sort of competing against each other, you're competing against yourself more than anybody."