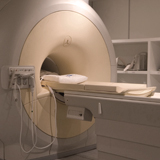 Orthopedic Associates of Port Huron provides an MRI scan for the knee, neck and back, and other injured areas of the body on our campus.

MRI, which stands for Magnetic Resonance Imaging, is a key tool for physicians to look for and diagnose injuries that can't be identified otherwise. Physicians recommend MRI scans for patients to look for joint degeneration, tumors, fractures, and other damage or disease.

Advanced MRI technology ensures accurate images of your condition. The certified technologists have more than 50 years combined experience providing expert care. And our comfortable surroundings and outdoor view can help put you at ease.
All MRI exams performed at Orthopedic Associates are interpreted by radiologists at the Cleveland Clinic, where each of the radiologists is board-certified and have advanced subspecialty training. This means that the physicians interpreting your exams are nationally recognized imaging experts in their respective fields!
What Makes Us Different?
All exams are interpreted by Cleveland Clinic's board-certified, subspecialty-trained radiologists for the highest quality diagnostics.
Reports are available within 24 hours, with STAT results available when requested.
Minimal wait times with convenient scheduling as opposed to high volume traffic at the hospital.
Highly affordable rate at a quarter of the cost of hospital MRI scans ($2,000 at the hospital and $500 with cash pay at our facility).
On Your MRI Examination Day:
Bring your doctor's order and your insurance cards with you to your appointment.
Follow your daily routine. You may eat, drink fluids, and take your medications as usual.
Plan to arrive 15 minutes early to complete paperwork.
You will have to change from your clothes to the clothes we provide.
You will be asked to remove all metal objects from your body, such as watches, jewelry, keys, wallets, purses, cell phones, and pagers. Lockers are available to secure your belongings.
You may be asked to remove dentures and/or bridgework. Personal denture cups are provided.
For your safety, you will be asked questions concerning your medical history. The same questions will be asked more than once. Some of these questions include past surgeries to the heart, brain, and ears, as well as injuries to your eyes.
Please inform the office staff or technologist if you think you may be pregnant.
If you think you are claustrophobic, talk to your doctor about possibly taking a mild sedative before your MRI exam. We do not dispense medication. If you plan on taking a sedative, please bring someone else to drive you home.
During your exam, you will be wearing earplugs or headphones, as the MRI machine makes noise similar to a jackhammer. Feel free to bring a CD of your favorite music.
Ask questions. If you are unsure about anything, our staff will be more than happy to discuss it with you.
A radiologist, a physician specializing in interpretation, will read your images and report the results to your doctor.
We are open from 6:00 a.m. to 6:00 p.m., Monday through Friday.
To schedule an MRI appointment at Orthopedic Associates, please call (810) 985-4900 or click on the Appointment Request button.