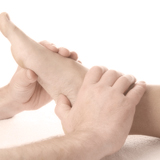 What is therapeutic massage?
Therapeutic massage involves the manipulation of the soft tissue structures of the body to prevent and alleviate pain, discomfort, muscle spasms, and stress. It also promotes health and wellness. Massage therapy improves functioning of the circulatory, lymphatic, muscular, skeletal, and nervous systems, and it may improve the rate at which the body recovers from injury and illness.
Massage involves holding, causing movement of soft tissue, and/or applying pressure to the body. It comes in many forms, including:
Swedish: a gentle, relaxing massage
Pressure point therapy: for certain conditions or injuries
Sports massage: focuses on muscle groups relevant to the particular sport
Although massage therapy does not increase muscle strength, it can stimulate weak, inactive muscles and, thus, partially compensate for the lack of exercise and inactivity resulting from illness or injury. It also can hasten and lead to a more complete recovery from exercise or injury.
Physical benefits of therapeutic massage include:
Helps relieve stress and aids relaxation
Helps relieve muscle tension and stiffness
Fosters faster healing of strained muscles and sprained ligaments, reduces pain and swelling, reduces formation of excessive scar tissue
Reduces muscle spasms
Provides greater joint flexibility and range of motion
Enhances athletic performance
Promotes deeper and easier breathing
Mental benefits are:
Fosters peace of mind
Promotes a relaxed state of mental alertness
Helps relieve mental stress
Improves ability to monitor stress signals and respond appropriately
Enhances capacity for calm thinking and creativity
Therapeutic massage may not be recommended in some cases, such as for people with:
Inflammation of the veins (phlebitis)
Infectious diseases
Certain forms of cancer
Some skin conditions
Some cardiac problems
If you have one of these or another medical condition, always check with your doctor before seeking a massage.
To schedule a massage, please call (810) 985-4900 or click on the Appointment Request button.